BE(E)lieve
Long the purview of the automobile, the Los Angeles street grid has for the past century proven a hostile and barren environment for flora and fauna alike. Historically the City supported a fertile agricultural community with rich loamy soils and the life-giving waters of the Los Angeles river even as late as the 1950s. Even as Los Angeles urbanized, the City also offered multiple travel modes, such as the Pacific Electric, General Uruiza and Los Angeles Railways and the California Cycleway, an elevated bike path connecting downtown to Pasadena, which provided Angelenos fundamental opportunities to connect to their environment and move through the City along humane, accessible and memorable streets and boulevards.
With rapid industrialization, the conversion of streetcars to bus lines, and the rise of the car and concomitant highway system in the 1940s and 1950s, the design of streets by civil engineers consciously excluded pedestrians and cyclists—with higher speeds, wider streets, fewer to no street amenities—in favor of traffic efficiencies.
Despite this challenging history, increasingly communities are once again discovering that streets can be more than vehicular corridors—the Los Angeles road system has the potential to be a network of corridors rich in habitat, diverse in community, vibrant in innovation, safe for children and seniors, and viable for sustained economic activity.
While in some locations, streets provide street-side dining, or retail vending, these public spaces also have the potential to more profoundly effect and encourage human and ecological health.
BeeLi(e)ve proposes a replicable model along Venice Blvd to support the revitalization of a functioning network of complete urban corridors for pollinators and people. Beekeeping is becoming as common in urban centers across the United States as kitchen gardens and chicken coops. As urban and rural areas face the precipitous decline of both native pollinators and honeybees through colony collapse, many cities are turning to urban beekeeping and its concomitant efforts at urban farming, habitat preservation and enhancement, and public involvement to address the very real threats economic and otherwise that the loss of pollinators pose.
BeeLi(e)ve anticipates and embraces the recent proposed changes in City of Los Angeles regulations that allow for urban beekeeping and provides a scaffolding for weaving together the street network with values of community gardens, city parks, and regional wildlife corridors. BeeLi(e)ve takes the notion of a complete street one step further by promoting a more profound understanding of the value of public land, including the street right-of-way, as a series of diverse yet connected democratic, digital and dynamic economic and ecological spaces.
BeeLi(e)ve can be applied on a small and ephemeral scale to Venice boulevard or implemented on a city-wide and permanent scale to every street. BeeLi(e)ve engages the latest in honeybee technology, FlowTM Hive, as well as the successes of public art and the value of xeriscapes featuring mobile planters with California native plants, to activate, educate, and pollinate.
We propose two BeeLi(e)ve hive locations along Venice Blvd median to create and provide passersby real time, real world encounters with urban nature—pollinators and plants, a nature that is at once familiar and new. At the same time, pedestrians and cyclists will be directed to as well as online resources about the role of pollinators in the city.
The distinctive architectural form of the hive and planting armature, more similar to what we might deem a sculptural residence, is both functional and memorable, maintainable and meditative. The form consciously encourages stopping, looking once, then looking once again, sparking questions and conversations among friends and strangers. The elevated hive ensures safety for pollinators and passersby. They remain accessible for maintenance by local beekeepers (HoneyLove) who will be populating the hives with local bee stock.
By creating iconic [perhaps "memorable"] yet functional moveable beehives and accompanying mobile pollinator-friendly plantings. BeeLi(e)ve acts as a catalyst for community engagement, above and beyond standard interventions. BeeLi(e)ve takes tactical urbanism to a new level by laying the groundwork for permanent shifts in urban health helping Angelenos draw direct connections among the food the eat, the flowers they see and the streets they use. Streets become redefined as corridors for people and pollinators, supporting flows of residents, goods, and a vibrant ecological and economic lifeblood.
BeeLi(e)ve proves urban life can be sweet and transformational through simple yet critical strategies that effect the creation of vital pollinator / people corridors.
COMMUNITY ENGAGEMENT/COLLABORATION
BeeLi(e)ve enlivens our urban street fabric by creating multiple moments to engage with nature in City by providing an artful, active and ecological scaffold that supports urban wildlife, pollination
Working with HoneyLove, a local non-profit education and conservation organization, BeeLi(e)ve will create an iconic urban beehive that is sculptural, recognizable and functional. The hive(s) will be able to be moved, much like commercial hives, adjacent to and in the vicinity of existing flowering trees, shrubs and herbaceous plants in the urbanscape—community gardens, residential yards, vegetated roadway medians and planting strips, parks, etc.—to provide bees sufficient access to food sources.
A project website will provide users—residents, students, gardeners, beekeepers, educators—project descriptions, updates and locations, including related events and educational links. HoneyLove supports, along with other active groups in the Los Angeles area, active training and awareness of the value of honeybees.
Harvest of the hives will provide moments for community participation: to interact with beekeepers, observe hive activity, and sample honey. Periodic relocation of the hives will be a moment for celebration, curiosity and connection between the work of the pollinators and the food and flowers we need. A GPS tracker and hive camera will also help potential users/viewers locate the hive(s), as well as to view bee activity in and around the hive.
BeeLi(e)ve will be a catalyst to encourage the creation of pollinator corridors, that use both public streets, community parks and gardens, and residential backyards, to encourage an online and on –the-ground network of green space and pollinator habitat. The Whitehouse has recently proposed steps that all Americans can take to improve habitat for pollinators. Cities like Oslo, Norway are already committing to pollination corridors. Can Los Angeles and its citizens be in the forefront too?
Building type: Beehive shelter
Competition 2015
Los Angeles, California
Primary components:Steel, bees, bee hive, watering system, native flowering plants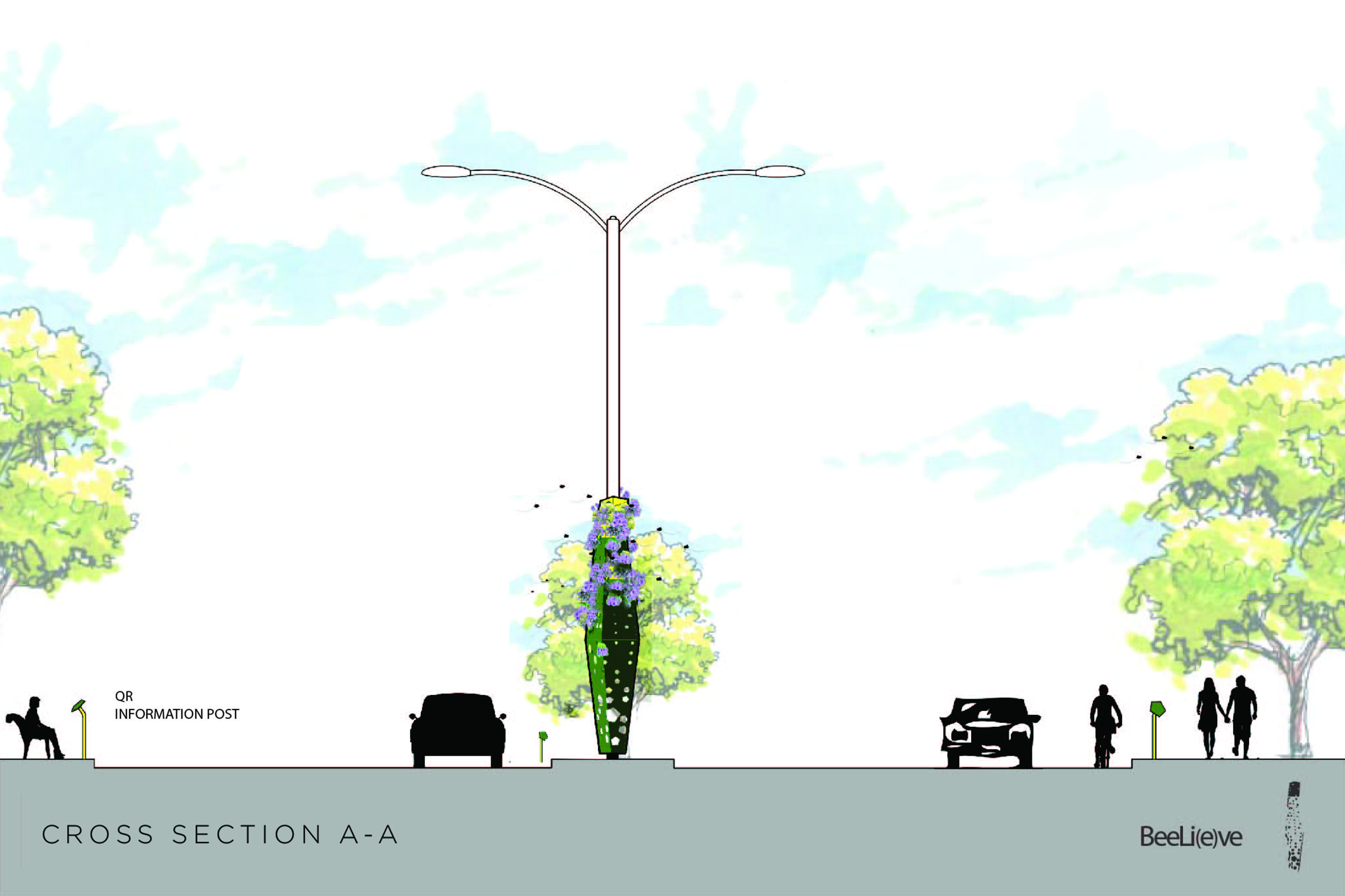 Beelieve