2004 MSCA Starr Award
A second gown and evening dress showroom for the client designed as a metaphor of the prelude to a wedding or gala event. The solution to make the existing space work for the client's program was the redistributing and layering of natural and artificial light sources to expand the spatial depth of the space. These delineate the veils of privacy & translucency of courtship and shopping itself.
Conceptual Strategy
the wall blade:
A wallboard "blade" runs overhead along the length of the store, concealing the mechanical equipment and other systems of the boutique, while defining the uppermost frame of the display bays. The "blade" acts as a reflective linear plane drawing the eye through the space, emphasizing the room's extended length, while directing the continuous fluorescent light in the framed bays and gown racks beneath it. The beveled interior of the blade diffuses light from concealed fixtures, defining the backdrop of the gowns. Additional continuous recessed fixtures run along the crown of the blade projecting a soft glow towards the ceiling along the length of the space.
sources of diffused fluorescent light:
A combination of vertical, and horizontal recessed trough fixtures creates controlled and flattering lighting throughout the space. The intent to is blur the perimeters of the narrow space seemingly to expand the room as a series of bays within the boutique. MR-16 adjustable light sources provide general lighting from the ceiling plane to allow for flexibility in merchandise lighting.
the recessed bays - pushing the distance:
Running perpendicular to the length of the space, a series of recessed display bays provide relief within the confines of the narrow space. On one side, large expanses of mirrored surfaces expand the perceived space accompanied by recessed panels of dark mahogany that further define these display bays. On the opposite side, overscaled columns gently pierce the beveled interior of the "blade" soffit, at which point a reveal underscores the separation of the blade and columns as systematically sperate elements. A color palette of white, chocolate brown and gray is a minimal backdrop to the gowns. It is within these bays that the spotlit gowns are suspended against the large white wall on a single square extrusion of brushed stainless steel that emerges from the columns and floor.

Building type: Retail
Completed 2004
Edina, Minnesota
1,800 square feet
Primary components: mahogany wood panel, mirror, carpet, stainless steel fittings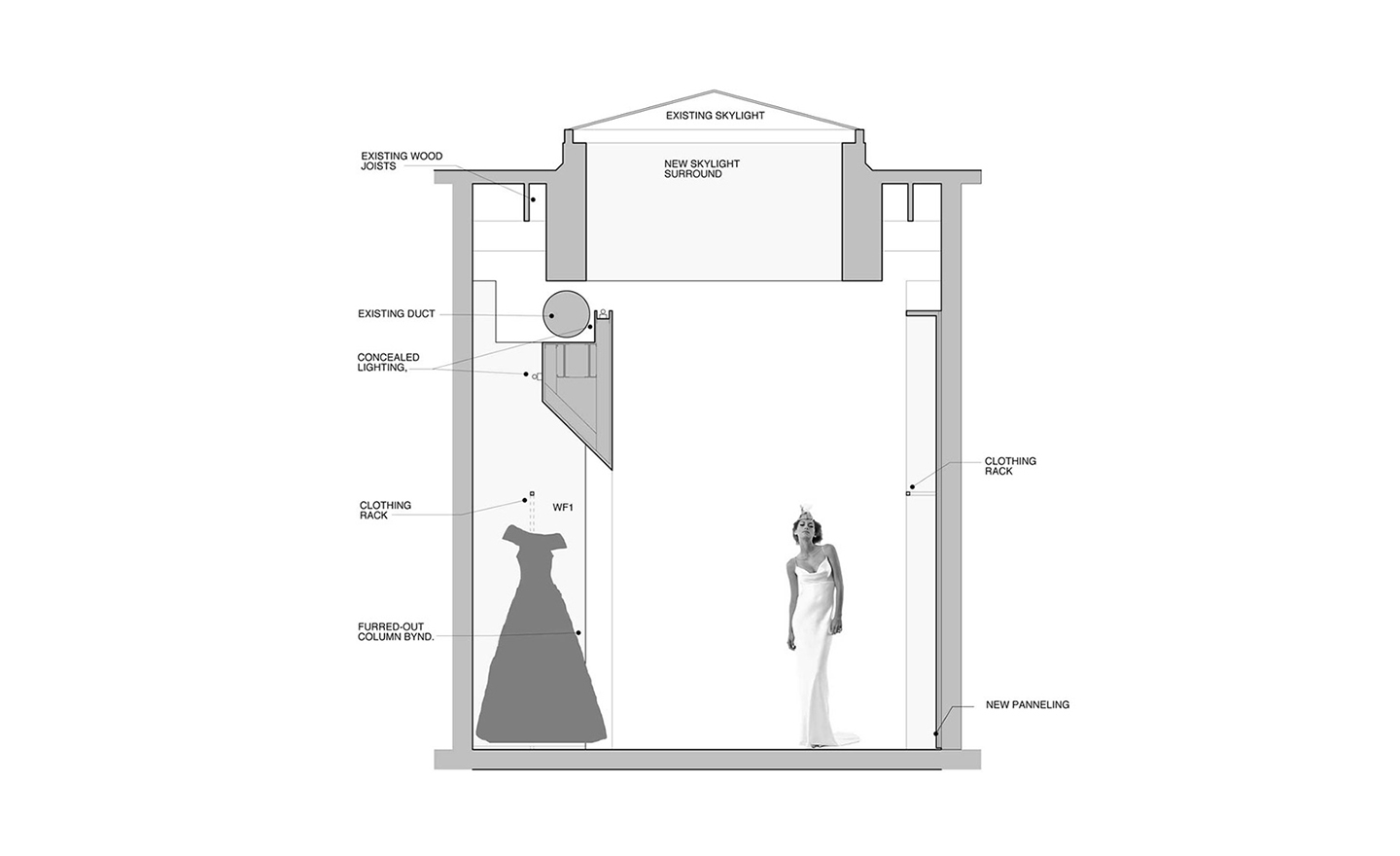 Monique L'Huillier II