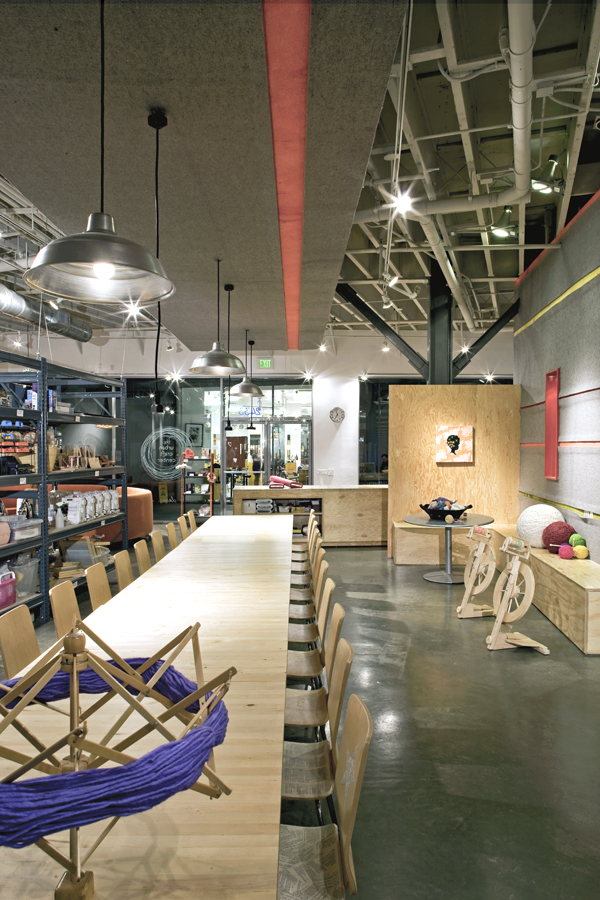 The Urban Craft Center is located in a retail location within the Frank Gehry designed Edgemar Mall. Within a modest budget, the space was designed to contain a retail area as well as a larger studio work space for an artist membership. The strategy for the layout involves simple dividing components:

1. Way finding at the entry is created by the fabric storage counter place perpendicular to the entry door, directing the visitor to select either the retail space to the left or artist studio to the right. The linear display of fabric bolts acts a decorative device as well as showing the product on sale to passersby.
2. The two areas are simply divided by a full height wall with large openings at either end. The wall is wrapped in wool felt, an use of a material integral to many craft art processes as well a highly efficient sound dampening device.
3. This same material is lined onto the bottom of the soffit hanging over the 24' long communal work table at the center of the space, the soffit again acts as a sound damper as well as lowering the height the 14' ceiling height to produce a more intimate working space.
The studio is purposely kept visually available to shoppers and pedestrians and has proven successful to encouraging and increasing membership.

Our client got involved directly in the project by creating the colored wool applied to the wall through a soaking process that involved heated dye made with Kool Aid powder. Furniture display case and couch designed by HUUM.

Building type: Retail
Completed 2009
Santa Monica
3,000 square feet
Primary components: repurposed rolled wool felt, koolaid powder dye, exterior grade plywood, polished concrete floors, industrial shelving
The Urban Craft Center